Promos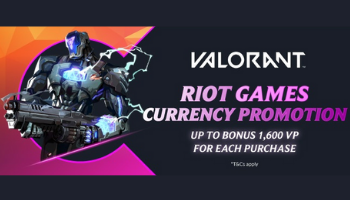 codashop
Codashop Valorant Riot Games Currency Promotion
Up to 1,600 bonus VP for every purchase!
2021-09-06 to 2021-09-27
Terms & Conditions
1) Sales by Coda, including but not limited to sales on Codashop, are final; no returns are accepted and no refunds are issued.
2) Gift code issuers, not Coda, are responsible for redeeming gift codes that you purchase from Codashop and for providing goods or services to you in exchange.
3) If you are dissatisfied with any or service purchased using Coda, or if you believe that you have been charged in error, you should contact the Merchant (or, if your purchase was made at Codashop, us) directly to attempt to resolve the issue.
4) If you are unable to resolve the issue with the Merchant directly, you may dispute a transaction (or a partial transaction) with Coda. You may initiate a dispute by contacting us.You must not make any false or misleading statements when filing, or during the subsequent investigation of, a dispute.
5) Returned items reported late by the merchants, and have cashbacks already credited to the user may lead to deductions in future cashback disbursements to reflect the late merchant adjustment.